When it comes to patio door designs, homeowners want to see as many options as possible to decide what is the best design for their patio, because a well-designed patio can enhance the beauty and functionality of the outdoor living space. Choosing the right patio door is crucial to seamlessly connect your indoor and outdoor areas. This article mainly talks about aluminum patio door options: sliding doors, bifold doors, and casement doors. We'll discuss their features, benefits, and why they are perfect for your patio.
Sliding door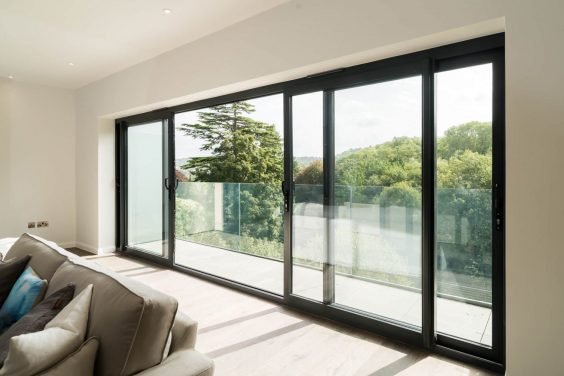 If you don't want any indoor and outdoor space taken, a sliding door is the best option, here are some advantages of sliding doors:
1: Space-saving design: Sliding doors operate on a horizontal track, allowing for smooth and effortless operation and it does not take any outdoor and indoor space.
2: Easy installation and less maintenance: Sliding door only has the roller and lock as the hardware, and normally the door comes pre-assembled, so it requires fewer skills when putting the door panels into the door frame.
3: Cost saving: The sliding door is considered to be the most cost-effective door among the 3 types of patio door designs.
Bifold door
If you want to maximize the opening and want the door to be as insulated as possible, a bifold door will be your best choice. Here are some advantages of bifold doors:
1: Wide opening capacity: Folding doors can be folded and stacked to create a large opening, it can allow for maximum ventilation and unobstructed access to your patio.
2: Flexibility in design: Aluminum folding doors can be customized to fit various opening sizes and configurations, it starts from 2 panels to 6 panels which are the popular designs, you can have more panels if needed.
3: Attractive design: The bi-fold design not only can increase the aesthetic appeal, but also it can increase the value of your building.
Casement door
If the space is limited and you want a good view, then a casement door will be a good choice. Here are some advantages of casement doors:
1: Classic style: Such an inswing or outswing door is always a classic look for any kind of architectural style.
2: Various hardware options: Casement doors can have a broader range of hardware options on the hinges and locks, this allows more locking options.
3: Energy saving: Aluminum casement door is considered to be the most insulated door, because the door seals very tightly when closed compared to the other types of doors, and it's able to use very thick glass up to 52mm thickness.
The first thing you want to get clear is what is your purpose for this door, you need to think about the space, preferences, and specific requirements. If you are thinking about getting a patio door, please feel free to email us for design suggestions and a quote, we will help you customize the perfect door for you.